SS Photographs from Concentration Camps: Perpetrator Sources and Counter-Narratives of Victims
Tuesday, February 12 at 12:00pm
This is a past event.
Doheny Memorial Library (DML), 241
3550 Trousdale Parkway, Los Angeles, CA 90089
Public lecture by Lukas Meissel (PhD candidate, Haifa University, Israel)
2018-2019 USC Shoah Foundation Center for Advanced Genocide Research Greenberg Research Fellow
There is an over-representation of perpetrator photos in digital collections of photographs from the Nazi period, which means that the visual narratives of the perpetrators are still influential in the memory of the camps today, especially when being used as neutral visualizations. In this lecture, Lukas Meissel (PhD candidate, Haifa University) will present the preliminary findings of his dissertation research about photographic practices in concentration camps, specifically photos taken by SS men, to argue that the SS photographs were used to create a specific visual narrative of the concentration camps that excludes significant aspects of the camps' reality. He will argue that in order to understand the reality that these images do not depict, one must consult the counter-narratives created by deportees, as represented in oral history interviews of survivors, in addition to analysis of visual sources. This talk plans to complicate our understanding of concentration camp photography by using oral testimonies in a new way: as complementary or contradicting narratives to visual sources in the context of photo analysis.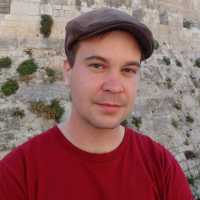 Lukas Meissel is a PhD candidate in Holocaust Studies at Haifa University. His doctoral project, which analyzes photographs taken by SS men at concentration camps, is supervised by Prof. Amos Morris Reich and Dr. Ofer Ashkenazi. He holds a Master's degree in contemporary history from the University of Vienna. Prior to his doctoral studies he worked as a historian in the archives of the Jewish community of Vienna, alongside serving as a board member and deputy chairperson for GEDENKDIENST, a Vienna-based NGO that deals with Austrian contemporary history. He had also worked on projects on behalf of Yad Vashem in Vienna and as a volunteer in the Yad Vashem archives in Jerusalem. Since 2008 he had guided numerous study trips to memorial sites in Austria, Poland, Italy and Lithuania. His research interests focus on visual history, perpetrator studies, antisemitism, and Holocaust Education and he has published various articles and gave presentations about these subjects.
Lunch will be served. Click here to RSVP.